​
Calling all Onarga Military School (OMS) alumni, former cadets, academy family members, former faculty, and community members!
You're invited to recognize or honor an individual or group of OMS classmates, remember a family member or other special milestone, or simply celebrate your community with a brick in the new memorial pathway now under construction on our beautiful Nexus-Onarga campus!
With your donation of $200, your engraved commemorative brick will be included in the walkway connecting the East Seminary sidewalk to the existing memorial bench area under the majestic trees. Like the leaders who forged a path for education in Onarga over 150 years ago, your personalized brick will help continue this legacy by supporting the students of Nexus-Onarga Family Healing as they navigate their own learning journey on this historic campus.
Brick Details
Cost: $200 per brick. Each brick is a 4" x 8" English Edge brick.

Bricks will be installed in the OMS Memorial Sidewalk on the campus of Nexus-Onarga Family Healing.

Up to three lines of 18 characters each, including spaces and punctuation, all letters will be capitalized, and all lines will automatically be centered. Each line must end with a full word or name (words and names will not be hyphenated and continued on the next line).

Examples:

In Honor of John Smith
OMS
Class of 1937

John Smith
OMS Alumnus
Class of 1937

Confirmation of installation will be provided to the recipient.

Please submit one form for each brick request.
The OMS Alumni Association and Nexus Family Healing reserve the right to review and approve any inscription prior to engraving. This donation is tax-deductible. It is understood that this gift is for the normal life of the brick.
Brick ExampleS
The bricks below are examples. Your donor brick may look different.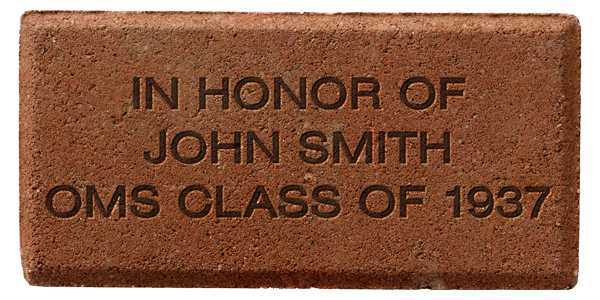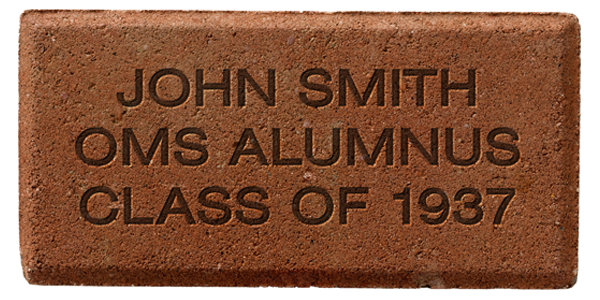 Ordering Your Brick
If you wish to pay by credit card, please complete your order using the form below. To pay by check, you may download and print this order form to return with your payment. Please makes checks payable to Nexus Family Healing and mail with the completed form to:
Nexus Family Healing
Attn: Nexus-Onarga Brick Campaign
505 Hwy 169 N, Suite 500
Plymouth, MN 55441
Any bricks confirmed after September 8, 2023, are not guaranteed to be placed prior to the OMS Alumni Association Fall Homecoming Weekend on Oct. 6-8, 2023.
For any questions and/or concerns, please contact Matt Drat, Regional Development Director, at mdrat@nexusfamilyhealing.org or call (815) 370-0689.