At Nexus Family Healing, we believe every child is worth it — and every family matters. And we know that each time we help someone change the course of their life, we create the potential for healthier families, stronger communities, and a better world.
It's why we're here, it's why you can trust us, and it's why for over 50 years, we have been committed to helping even the most challenging situations.

Our services
Changing One Life Changes Everything.
With our innovative, customized approach, we provide outpatient therapy, residential treatment, and foster care to help children, families and individuals struggling with emotional and behavioral health issues.
Our mission
Changing the course of a child's life by stabilizing families and strengthening mental health.
Our vision
Healing the past. Breaking the cycle. Changing the future.
Our values
Innovation
Compassion
Agility
Responsiveness
Excellence
And, we execute on these values with synergy and grit.
Our Commitment to Diversity, Equity and Inclusion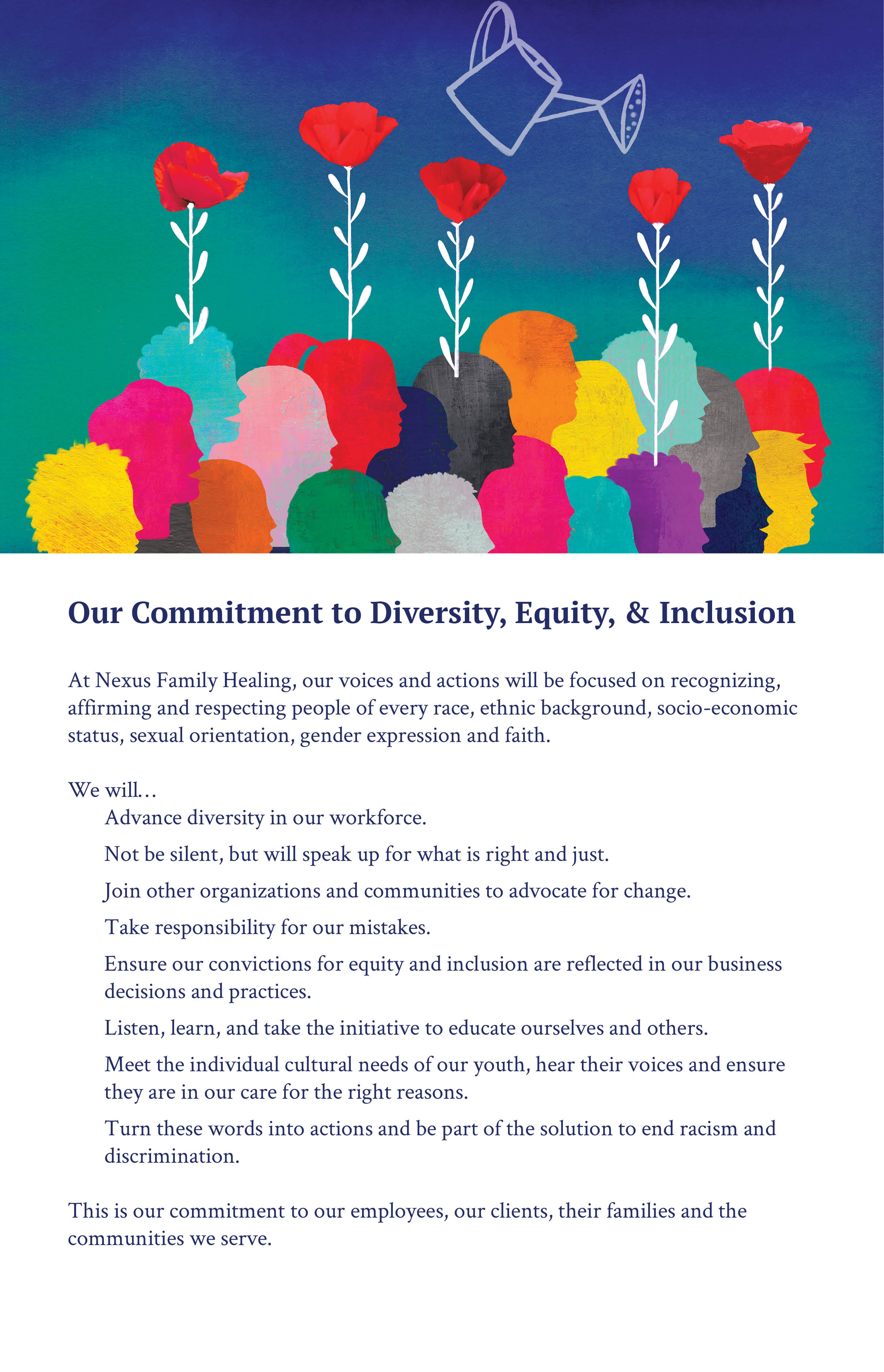 Our history
Over the last 50 years, Nexus has helped thousands of children, families and individuals find individualized paths to emotional, mental and behavioral health. What began in 1972 as a single program in Minnetonka, Minnesota, has grown into a network of nine agencies in four states. We are nationally recognized as a progressive leader in youth and family healing, and we're more committed than ever to continue this work.
Today, Nexus is a nonprofit, 501(C)(3) organization, headquartered in Plymouth, Minnesota, serving thousands of youth and families each year. We provide community-based mental health services, foster care and adoption services, and residential treatment programs across four states.
We create a customized plan for each child, family, and individual—and provide the exact combination of support services needed to put that plan into action. Our innovative personalized approach helps heal trauma, break cycles of harm, and restore hope to families when all seems lost.
Our Locations
Nexus Family Healing services are located in Illinois, Minnesota, Maryland and North Dakota.