Community Mental Health Clinic
Treating the root of the problem, not just the behaviors
What to Expect
Our Therapists
Request an Appointment Today
Community Programs
Family Support Programs
School Case Management Programs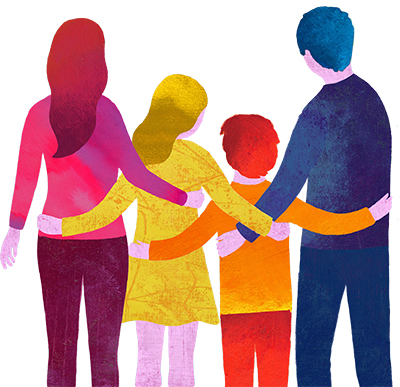 ---
Our Community Mental Health Clinic
Life can be challenging and stressful for children and adults. We get sick, divorced, move or separate from a loved one, have accidents, lose loved ones, witness violence, get bullied, and experience a host of other events in the course of our lifetime. Any of those experiences can cause traumatic stress.
Research suggests that more than half of all youth will experience a traumatic event by the age of 18, but these events can occur throughout our lives. When one member of a household is affected by a traumatic or stressful event, the whole family may feel the impact.
Our compassionate, experienced therapists at our trauma and stress clinic offer individual and family therapy to help with a wide range of concerns, including school adjustment problems, depression, anxiety, difficulty dealing with loss or family changes, abuse, traumatic experiences, attention problems, and parent-child conflicts. Counseling focuses on building strengths and gaining skills to be successful in all areas of life. Services may be provided in the office, in the comfort of the client's home or an alternative environment like a school or childcare setting.
Our outpatient clinicians support clients of all ages with individual, couple, relationship, and family therapy. We provide guidance, support, skill building, and healing around many common issues, including:
Depression
Anxiety
Abuse
Traumatic experiences, including grief and loss
Parenting issues
Our team is committed to bringing positive change through evidence-based practices through TF-CBT.
What to expect at our clinic:

Before we begin treatment, we'll provide a thorough clinical assessment that's appropriate for your child's age and development.
We'll then provide an explanation and overview of the treatment model we plan to use and the expected length of time for therapy.
We'll want you to be involved in developing your child's (and/or your) treatment goals.
We'll want your involvement and support (as the caregiver or parent) in each session. This is critical for therapy to be effective.
Your child will participate in therapeutic activities that are appropriate for their age and development.
Your child will receive individualized, respectful, evidence-based treatment provided by a licensed, experienced therapist.
Throughout the process, you'll experience a client-centered, family-focused, and collaborative approach to treatment.
Appointments

Call 701-551-6301 or click here to request an appointment today.
Our Community Programs
Family Support Program
We believe many youth in the child welfare and behavioral health system could remain in their homes if they had access to timely and effective family-focused supports. The goal of our Family Support Program is to prevent youth from needing out-of-home placements by providing intensive case management, respite care, and parent-to-parent mentoring services. This program can also help youth successfully transition back home following an out-of-home placement. Learn more about our Family Support Program.
School Case Management Program
To support children and their caregivers throughout our community who need mental health services, we provide a strengths-based service within local schools. Our case managers work closely with each student in the program—as well as the student's family and their school team—to implement an individualized care plan that supports the child and the family's needs. Our case managers also help these children and families access medical, social, educational, and other services necessary for appropriate care and treatment. Learn more about our School Case Management Program.
Meet the Team
Our team of licensed therapists specializes in evidence-based trauma-focused therapy, and we're passionate about supporting you and your family in your healing journey. The following therapists at Nexus-PATH Family Healing are currently accepting new patients: