Resiliency, fortitude, and restoration describe the journey of Nexus-Woodbourne Family Healing in the last year. Through strategic vision and effort, we have navigated the unforeseen obstacles that residential psychiatric facilities face in a post- COVID social environment and better prepared ourselves to take on the nation's largest youth mental health crisis to date.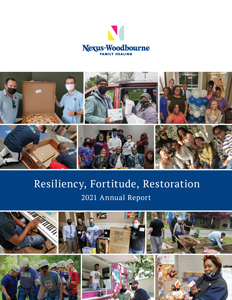 Our Contributors
Nexus-Woodbourne Family Healing and our Board of Directors thank each and every one of our supporters who enable us to change the course of a child's life by stabilizing families and strengthening mental health. The following list of contributors reflect the gifts Nexus-Woodbourne received from January 1, 2019 – June 30, 2020.
Included in these lists are in-kind gifts, as well as gifts of time and treasure. We have used the utmost care in compiling these lists. If we have omitted or listed any names incorrectly it was truly unintentional. If you discover an inaccuracy, we ask that you please contact Meghan Butterworth, Regional Development Director, at mbutterworth@nexusfamilyhealing.org.
Individuals
Anonymous
Kevin and Sally Abell
Kendall Allison
Susan Ashton
Perry Bacon
Tokisha Banks
Alagra Bass
Bruce and Polly Behrens
Tom Bryson
Alexis Canter
Tess Carpenter
Winnie Carpenter
Cale Christensen
Nicole Conley
Joan Carter Conway and Vernon Conway
Tamika Craig
Shabria Crum
Gina Cucchiella
Lee Culp Henry
Kimberly Dorkins
Jennifer and Lon Engel
Joelene and Murry Evenson
Cathy Field
Stuart Fishelman
Thomas, Sr. and Cynthia Fitzgerald
Susan Fitzgerald
Emmanuel Fitzgerald
Angelique Ford
Aimee and Mark Fulchino
Monique and Jonathan Fulton
Ryan Gladden
Kamila Hall
Lis Harring
Bill Hauck
W. Carl and Susan Hossfeld
Nathan Irby
Teara Jackson
Diana Jacobs
Kevin Wayne Johnson and Gail Johnson
Carmel Kaiser
Adam Kleeman
Sarah Koser
Dorothy Krug
Natalie Lane
Robert Lucas
Annette R. March-Grier and Arthur D. Grier
Jeffrey McCormack
Individuals (cont.)
Scott McGuire
Jarrell McRae
Ms. Veronica J. Moore
Kimberly Munchel
Michelle and Thomas Murray
Rachel Ndungu
Veronica Oladipupo
Taylor Perry-Crawford
William Plummer
Diandra Poe
Tia Price
Olatunbosun Rotimi
Alyssa Salaga
Greg Sanders
Abigail Sargent
Steven Schreiber
Phoenicia Schwing
Sarah Sears
Ge'kiara Spann
Sally Steffen
Jessie Trema
Michael Williams
Genevieve Wilson
Anthony Wilson and Tiffany Richards Wilson
Wade Wilson & Claudia Bismark
Dorothy and Richard Wolfe
Arneshia Woods
Foundations & Funds
AmazonSmile Foundation
Baltimore Nonprofit Relief Fund
Charles Crane Family Foundation
The Morris A. and Clarisse Mechanic Foundation, Inc.
Thomas Wilson Foundation
Corporations and Organizations
Buckets of Love
CASA of Baltimore County
Giant Food LLC
Golfers' Charitable Association
Hendersen-Webb Northern Pharmacy & Medical Equipment, Inc.
Loyola University, Center for Community, Service and Justice
Under Armour
United Way of Lancaster County
United Way of Central Maryland
The Whiting-Turner Contracting Company
William Blair