The mental health crisis facing our local youth and families continues to impact not only these individuals but also the communities in which we all live.
For decades, Nexus-Woodbourne Family Healing has been a key resource for Maryland's at-risk youth with the most significant and complex trauma and mental health challenges. Over the past year, we have continued to focus our efforts in providing safety and healing for youth with the greatest needs.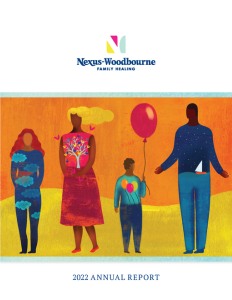 Our Contributors
Nexus-Woodbourne Family Healing and our Board of Directors thank each and every one of our supporters who enable us to change the course of a child's life by stabilizing families and strengthening mental health. The following list of contributors reflect the gifts Nexus-Woodbourne received from July 1, 2021 – June 30, 2022.
Included in these lists are in-kind gifts, as well as gifts of time and treasure. We have used the utmost care in compiling these lists. If we have omitted or listed any names incorrectly it was truly unintentional. If you discover an inaccuracy, we ask that you please contact Meghan Butterworth, Regional Development Director for Nexus-Woodbourne Family Healing, at mbutterworth@nexusfamilyhealing.org.
Individuals
Anonymous
Marcus Adams
Leslie Ashley
Perry and Mariana Bacon
Bruce and Polly Behrens
Alyssa Bernhardt
Elizabeth Birth
Margaret and Anthony Blades
Tom Bryson
Meghan Butterworth
Mandi Carpenter
Tess Carpenter and Drew Pate
Winnie Carpenter
Cale Christensen
Samantha Coleman
Regina Daniels
Teresa Deason
Elizabeth Diem
Liz Doda
Debra Eichler
Jennifer and Lon Engel
Austin Feeley
Cathy Field
Stuart Fishelman
Thomas and Cynthia Fitzgerald
Angelique Ford
Bryon Fracchia
Linda Fredeking
Aimee and Mark Fulchino
Monique and Jonathan Fulton
Aeva Gaymon-Doomes
Tere Geckle
Kamila Hall
Bill Hauck
Virginia Heimbach
Cate and Chris Ilardo
Nathan Irby
Diana Jacobs
Kevin Wayne Johnson and Gail Johnson
Jacqueline Ladd
Beverly Lawhorn
Melanie Lewis
Tonya Malloy
Jeffrey McCormack
Jarrell McRae
Cindy Newton
Individuals (cont.)
Dione Parrish
Samuel Pate
Jane Riley
Alyssa Salaga
Mary Jane and Michael Salaga
Steven Schreiber
Dorothy Skobba
Maggie Stephens
Jared Thornton
Michael Tomaszewski
Jessie Trema
David Vane
Margaret Vimont
Andrea Willinger
Foundations & Funds
AmazonSmile Foundation
Baltimore Nonprofit Relief Fund
Charles Crane Family Foundation
The Morris A. and Clarisse Mechanic Foundation, Inc.
Thomas Wilson Foundation
Corporations and Organizations
Abby Plumbing
Aberdeen IronBirds
AmazonSmile Foundation
Baltimore Orioles
CASA of Baltimore County
Charity Gift Certificates
Chipotle Mexican Grill, Inc.
Ciena
Faith Presbyterian Church
Integrity Advantage
Islamic Society of Baltimore
Johnson Leadership Group
Kindness is Magic
Northern Pharmacy & Medical Equipment, Inc.
St. Andrew Lutheran Church
The Great Blacks in Wax Museum
The People's Water Service Company
The Whiting-Turner Contracting Company
Under Armour
William Blair
United Way of Central Maryland